STUDIES, SERVICES AND TRAINING
Exploit the kinetic energy of the oceans and rivers is not a new idea.
Thousands of patents are recorded at the point where it is almost impossible to identify all. Several tenths of technologies are currently under development in the world at various steps.
This energy is now exploitable, however operators and users do not know how to find it out.
In this context only few true professionals who have made a full-time activity of these energies since a long time can provide relevant answers to the questions you may ask:
Can I use marine or river energy?
What is the most appropriate turbine technology according to my needs and a define site?
At what cost?
What will be my production and my income?
Is it profitable? What is the return on investment?
What are the constraints and advantages / disadvantages?
What is the legal and regulatory framework?

As precursors, working for 10 years in this activity, with experience in both field and technical, we can answer your questions, make measurements and the necessary feasibility studies to support your decisions and strategy. Please contact us.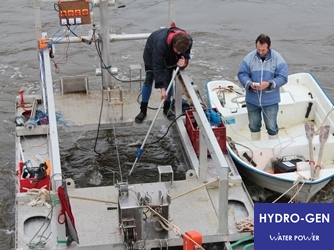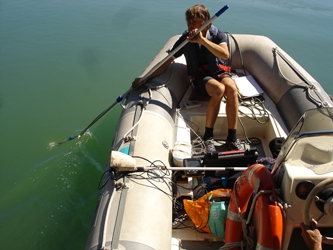 Exemple of an ADCP transect of a river, clearly showing that the currents are stronger near the surface and weaker at the bottom, and therefore where to settle the current turbine for an optimum production: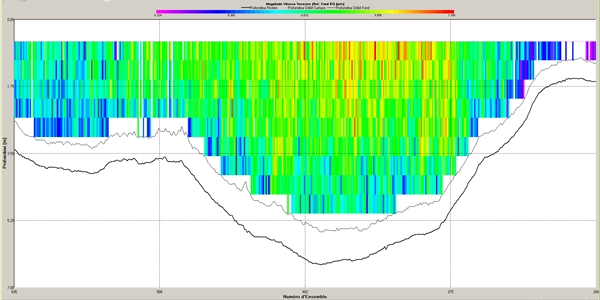 TRAININGS
We provide all trainings on current turbines and hydrokinetic energy, taylored made to your needs, with both practical and theoretical modules:
Theory : hydrokinétic energy, origines, exploitation. How to select a site, sea, river, estuaries ? How to take measures ? How to exploit them ? Power formula, the Cp, the tip speed ratio, the limits. Power, energy and production calculations. How to optimize the energy production. Economy: capex, opex, return, total cost of kwh produced, profitability, the tariffs. Intermittence and forecasting. How to operate a current turbine? Power conversion, the wire, the grid connection. Managing a hydrokinetic project: the Gantt chart, the critical path. Maintenance policy. Norms, quality, certifications. Return of experience, evaluating the results.

Practical (demonstrated on one of our current turbines in operation): Visit of various hydrokinetic sites: how to select a site ? How to evaluate a current ? Turbine présentation, the various parts. Setting the mooring lines. Setting the turbine on its site. Setting the wire and plugging. Starting the turbine. Taking the various parameters and measures on operations: which measures devices and how to operate them ? Safety onshore and offshore. Maintenance.
For an adapted training program, please consult us.